Retrouvez les conférences des French American Innovation Days de San Francisco : "Reshaping Science and Healthcare by collaborating between borders and disciplines"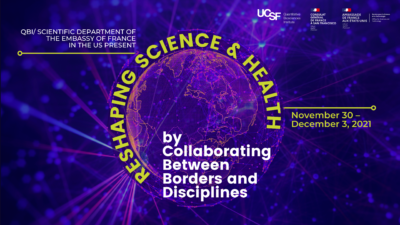 Science fair: "Reshaping Science and Healthcare by collaborating between borders and disciplines" 
Cette conférence scientifique a eu pour objectif de rassembler et de faire interagir des acteurs de l'industrie, des gouvernements, du monde universitaire et académique – américains et français – afin de créer et renforcer les liens entre disciplines, organismes et pays. Un lien qui est essentiel pour accélérer les avancées scientifiques, notamment dans le domaine de la santé.
L'événement a consisté en 4 tables rondes thématiques. Ces 4 tables rondes avaient pour objet d'aborder différentes thématiques de recherche d'actualité (immunothérapie, parasitologie, etc.) et ont montré comment le fait de faire travailler des groupes de recherche issus de plusieurs disciplines et de plusieurs pays permet des avancées scientifiques inenvisageables sans ces coopérations. 
1 – A "drug-sur-mesure", the rise of immunotherapy and personalized medecine 
Panélistes :
Aude Chapuis – Associate Professor, Program in Immunology – Clinical Research Division; John C. and Karyl Kay Hughes Endowed Chair, Fred Hutchinson
Julien Mamet – Founder, CSO and Board Member at Adynxx, Inc
Modérateur :
Jean-Baptiste Bordes – Attaché for Science and Technology, Science and Technology Department of the French Embassy in the US
2 – Convergent Approaches to Understanding the Molecular Basis of Human Health and Disease
Panélistes :
Alex McDowell – Director of World Building Media Lab, School of Cinematic Arts University of Southern California 
Roger Malina – Professor of Art and Technology, Professor of Physics, University of Texas; Co-Leader of Leonardo OLATS in Paris School of Arts
Michael Nilges – Vice President for Technology, Department of Structural Biology and Chemistry, Institute Pasteur; Visiting Professor UCSF 2011
Jane Richardson – James B. Duke Professor of Biochemistry at Duke University
Moderateur :
Helen Berman – Board of Governors Professor of Chemistry and Chemical Biology, Rutgers University; USF; UCSF
3 – Breaking walls to build Bridges: How to Build Multidisciplinary Teams for Biomedical Research
Panélistes:
Xavier Bressaud – Attaché for Science and Technology, Science and Technology Department of the French Embassy in the US
Jacqueline Fabius – Chief Operating Officer of QBI, UC San Francisco
Antoine Tesnière – Parisanté Campus CEO, Full professor APHP, Paris University
Moderateur: 
Héloïse Pajot – Deputy Attaché for Science and Technology, Science and Technology Department of the French Embassy in the US 
4 – Unwanted Guests: The Global Issue of Parasites
Panélistes :
Gérald Spaeth – Head of Department of Parasites and Insect Vectors, Institut Pasteur
Fidelis Cho-Ngwa – Professor of Biochemistry, Biotechnology and Drug Discovery, University of Buea 
Kennan Marsh – Director of experimental sciences, Abbvie
Chetan Chitnis – Head, Malaria Parasite Biology and Vaccines Unit, Institut Pasteur
Moderateur :
Judy Sakanari – Professor of Pharmaceutical Chemistry, UC San Francisco
Renforcement des collaborations entre le Quantitative Biosciences Institute, UCSF et la France
Quantitative Biosciences Institute (QBI) est un institut de recherche relevant de l'University of California in San Francisco (UCSF) particulièrement impliqué dans la lutte contre la COVID-19. Ce laboratoire entretient un lien étroit avec la France, notamment à travers son n partenariat avec l'Institut Pasteur,. 
Lors de l'apparition de l'épidémie de COVID-19, QBI s'est fortement mobilisé pour apporter des solutions concrètes à l'épidémie en cherchant à effectuer du repositionnement thérapeutique. Ainsi, le directeur de QBI, Nevan Krogan, a pris la tête d'un groupe de recherche appelé « QBI Coronavirus Research Group », qui implique, outre QBI, plusieurs groupes de recherche de UCSF, le Gladstone Institute, Icahn School of Medecine, Mount Sinaï, l'Institut Pasteur, et Howard Hugues Medical Institute. Des médicaments déjà existants ont été identifiés comme étant potentiellement efficaces et testés sur des cultures cellulaires et des modèles animaux par l'Institut Pasteur et Mount Sinaï. Un de ces médicaments a permis de sauver la vie d'un malade américain de la COVID-19 dans le cadre d'une autorisation exceptionnelle de la FDA. 
Pour poursuivre cette contribution fructueuse, QBI et l'Institut Pasteur travaillent actuellement à créer une antenne de l'Institut Pasteur au sein de UCSF. Cela permettrait de capitaliser sur la synergie qui existe entre la technologie quantitative de QBI ainsi que sur sa capacité à mobiliser de nombreux groupes de recherche de UCSF, tandis que l'Institut Pasteur apporte une expertise en matière d'agents infectieux reconnue dans le monde entier. La présence en Silicon Valley permettrait aussi d'accéder aux financements considérables qui peuvent être levés sur place pour transformer rapidement un résultat de recherche en un produit commercialisable. 
Rédaction: 
Jean-Baptiste Bordes, Attaché pour la Science et la Technologie, San Francisco – [email protected]
Héloïse Pajot, Attachée adjointe pour la Science et la Technologie, San Francisco – [email protected]