Café des Sciences is a monthly scientific conference organized by the Office for Science and Technology (OST) from the French Embassy in the United States. Every month, join us and discuss scientific and technological news with French scientists and experts.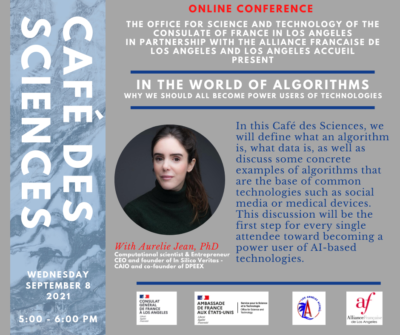 For this new edition, guest speaker Aurélie Jean Ph.D., computational scientist and entrepreneur, CEO and founder of In Silico Veritas – CAIO and co-founder of DPEEX will present a conference « In the World of Algorithms ».
This Café des Sciences is hosted by Maëlys Renaud, Deputy Attachée for Science and Technology in Los Angeles and the Consule Generale of France in Los Angeles Julie Duhaut-Bedos, in partnership with l'Alliance Française de Los Angeles and Los Angeles Accueil.
In the world of Algorithms : Why we should all become power users of technologies

Nowadays, we interact on a daily basis with an increasing number of technologies that embed artificial intelligence components, materialized by algorithms and data. Understanding how those algorithms are built, trained and used, as well as how the data is collected and analyzed, is key to embracing the opportunities and avoiding any threats. To reach such a goal, the tech actors as well as scientists and engineers have to explain the underlying mechanisms, and consequently  empower every single user. In this Café des Sciences, we will define what an algorithm is, what data is, as well as discuss some concrete examples of algorithms that are the base of common technologies such as social media or medical devices. This discussion will be the first step for every single attendee toward becoming a power user of AI-based technologies.
Aurélie JEAN has been working for more than 15 years as a research scientist and an entrepreneur in computational sciences, applied to engineering, medicine, education, economy, finance and journalism. In the past, Aurélie worked at the Massachusetts Institute of Technology and at Bloomberg. Today, Aurélie works and lives between the USA and France where she shares her time between consulting, research, and teaching in grad schools and executive education mainly at MIT.
Information and registration on Eventbrite.