University of Arizona researchers awarded $1.2M to explore farming at existing solar power sites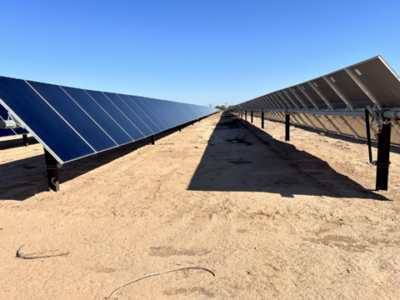 The University of Arizona project could lead to new methods and improved outcomes for marginalized agricultural communities and foster solar development across Arizona.  The race is on to develop more environmentally conscious land uses in a world impacted by prolonged drought and climate change, and University of Arizona researchers studying agrivoltaics just received a boost in the form of $1.2 million from the U.S. Department of Energy.  Agrivoltaics refers to the simultaneous use of land for both growing crops and collecting solar energy. When plants are grown in the shade provided by solar panels, agriculture can flourish in previously underdeveloped spaces. At the same time, solar installations benefit from the cooling effect of plant life. 
The Department of Energy grant will support work in the School of Geography, Development, and Environment, as well as Biosphere 2, the Udall Center for Studies in Public Policy and the Department of Environmental Science.
Collaborating on the project is Alicja Babst-Kostecka, a UArizona assistant professor of environmental science, and Mitchell Pavao-Zuckerman, a former UArizona research professor who is now an associate professor in the University of Maryland College of Agriculture and Natural Resources.
In addition to the potential societal and industry benefits of their research, Gerlak and Barron-Gafford expressed appreciation for the educational opportunity the project will provide for both students and rural, often marginalized, farming communities.
En savoir plus:  https://tinyurl.com/bdcrckkw