Join us for a novel discussion on environmental challenges and how we solve them, with top scientist Dr. Susan Solomon.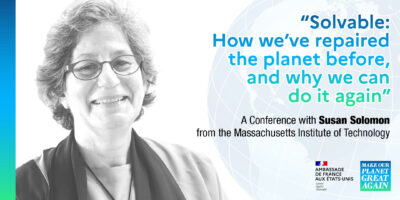 As part of a two-day symposium hosted by the Embassy of France in celebration of the French-U.S. longstanding collaboration in climate and earth science research, Dr. Susan Solomon, a leader in atmospheric science, has accepted to deliver remarks and engage in a insightful conversation on ways to tackle climate change.
Susan Solomon is the Martin Professor of Environmental Studies at the Massachusetts Institute of Technology. She is well known for pioneering research on the Antarctic ozone hole as well as on the irreversibility of climate change. She received the 1999 US National Medal of Science (highest scientific award in the US), the Grande Médaille of the French Academy of Sciences, the Crafoord Prize of the Swedish Academy of Sciences, the Blue Planet Prize, and the Volvo prize. She is a member of the National Academy of Sciences, the French Academy of Sciences, the Pontifical Academy of Sciences, and the Royal Society in the UK. Time magazine named Solomon as one of the 100 most influential people in the world in 2008. A glacier in the Antarctic has been named after her.