The human genome contains approximately 25,000 genes that carry the information needed to guide our growth, development and health. While genetic diversity is important to maintain the health of a population, certain disruption, deletion or mutation in genes can cause serious diseases, a vast majority of which are not treatable with drugs available to date. Gene therapy then appears as a promising way to develop treatments to cure disease or improve patients' ability to fight disease.
The principle of gene therapy is relatively simple, consisting of transferring or editing a gene to treat or cure the disease. While gene therapy holds promise for treating a wide range of diseases, clinical trials are the only way to determine their safety and efficacy and, ultimately, their ability to become actual treatments. The conference was an opportunity to gain insights from a diverse array of academic faculties and industry experts about the concrete steps needed to make gene therapies available to patients. It was open to all, students, faculty and industry and gathered a total of 135 attendees.
Stéphanie Cherqui, Professor of Pediatrics at UC San Diego School of Medicine and one of the symposium organizers, laid the groundwork for discussion by describing the great potential of gene therapy but also several major global challenges that faced this approach over the last decades and being taken up today.
Stéphanie Cherqui conducts research to develop stem cell and gene therapy strategies for degenerative multi-systemic disorders such as cystinosis, a condition caused by a genetic mutation of the CTNS gene, resulting in an abnormal accumulation of the amino acid cystine in organs and tissues. She received her Ph.D in 2002 at Necker hospital (Paris, France) and was appointed Assistant Professor at The Scripps Research Institute in 2009. She joined UC San Diego in 2012. Stéphanie Cherqui is overseeing a novel Phase I/II clinical trial in which patients' hematopoietic stem cells (the precursors to all blood cell types) are re-engineered using gene therapy techniques to introduce a normal version of the CTNS gene into the stem cells, which are then re-infused into the patients. The first participant in the trial was treated in October 2019. The last of six trial patients was treated last month.
When performing her Ph.D. at Necker hospital, Stéphanie Cherqui worked side by side with Caroline Sevin, also co-organizer of the symposium. Caroline Sevin pursued her scientific career in France as a pediatric neurologist at Assistance Publique – Hôpitaux de Paris (APHP) and is particularly involved in research in gene therapy at the international level as she now leads the French reference center for leukodystrophies in children as well as the "leukodystrophy disease group" at the European Reference Network established by the European Union to support patients and families affected by rare neurological diseases.
From their early time in Paris, both Stéphanie Cherqui and Caroline Sevin were convinced that gene therapy would be part of the medicine of the future, a position that guided their work even when the worldwide efforts to translate proofs-of-concept into clinical realities were slow and results mixed. "People either did not believe in gene therapy or thought it was science fiction, but it is now a successful reality", said Professor Stéphanie Cherqui while opening the discussions. Therefore, the symposium was built on to exchange on all aspects of clinical trials in gene therapy on both a local and international scale.
In the introductory remarks, Theodore Friedmann, MD, Distinguished Professor Emeritus of Pediatrics at UC San Diego School of Medicine highlighted the "deep need for more efficient and more rapid translation of the basic sciences to the clinic". Theodore Friedmann is recognized for his pioneering research and contributions to the development of gene therapy. He co-authored in 1972 a foundational article in the journal Science under the heading "Gene therapy for human genetic disease?". He was the recipient of the prestigious Japan Prize "in the field of medical science and medicinal science", that he shared in 2015 with Alain Fischer, who has served as director of immunology at the Necker Hospital in Paris and is credited with demonstrating a clinical efficacy of gene therapy by successfully treating children suffering from a dramatic genetic immune deficiency.
"This symposium puts the light on a domain identified as of utmost importance by France and the United States" stated Mireille Guyader, Counselor for Science and Technology at the Embassy of France in the United States. "In recent years, researchers in France, Europe and the United States have achieved measurable successes and advanced many gene therapy candidates to Phase I, Phase II or Phase III clinical trials" noted Clara Devouassoux and Karim Belarbi, co-organizers of the symposium for the French Office for Science and Technology. "We look forward to moving the discussions forward."
 The two-day symposium allowed physicians, researchers and investigators to share their experience on evaluating the potential of gene therapy to treat various conditions, including inborn error of metabolism, eye diseases, neurometabolic pathologies, neuromuscular disorders as well as cancer and blood diseases. Both academia and industry were represented with speakers from Genethon, LEXEO Therapeutics, BioEclipse Therapeutics, Orchard Therapeutics, Sarepta Therapeutics, Mahzi Therapeutics and Spark Therapeutics. In addition, exhibitors included The CIRM Alpha Stem Cell clinic, Pharmaron, ThermoFisher and ClearPoint Neuro.
Gene therapy already plays a pivotal role for the management of diseases caused by inborn error of metabolism, like cystinosis and Danon disease. Danon disease is caused by mutation in a gene called LAMP2 and results in profound weakening of skeletal muscle and especially cardiac muscles. "Danon is one of the most severe cardiomyopathy ever described" said Eric Adler, MD, director of cardiac transplant at UC San Diego Health. "Affected patients typically die or require heart transplants by the third decade of life." Research led over a decade by Adler and a team of researchers at UC San Diego Health brought to development a gene therapy that repairs dysfunction caused by mutations in LAMP2, improving cardiac function. A national trial was launched in 2019 and is slated to run to 2024 to robustly assess the safety and efficacy of this approach for patients.
Eye disorders are another area that is rapidly evolving with gene therapy, a domain in which Spark Therapeutics is at the forefront as it developed Luxturna, the first FDA approved gene therapy in Leber hereditary optic neuropathy. The dedicated session allowed Serge Picaud, executive director at the Paris Vision Institute, to present this institution that is one of the most important research centers in Europe on eye diseases. Paris Vision Institute brings together researchers, clinicians and industrial partners in order to discover, test and develop treatments for the benefit of visually impaired patients. Serge Picaud notably presented a phase III clinical trial to assess the efficacy and safety data of a next-generation gene therapy that could benefit more patients with Leber disease. Discovery made at the Paris Vision Institute for inherited eye diseases or more common conditions such as age-related macular degeneration have led to the creation of new companies such as Gensight Biologics, Pixium, Gamut therapeutics or SparingVision.
Gene therapy is of interest not only for inherited diseases, but also for the most common diseases with multifactorial etiology, including neurodegenerative diseases or cancers. "Delivering a growth factor in the central nervous system is a potential neuroprotective strategy" advanced Mark Tuszynski, director of Translational Neuroscience Institute at UC San Diego School of Medicine. Mark Tuszynski is the principal investigator of a phase I gene therapy clinical trial in which the growth factor BDNF (brain-derived neurotrophic factor) is delivered into the brains of persons with Alzheimer's disease or mild cognitive impairment (MCI), a condition that often precedes dementia. BDNF declines early in Alzheimer's disease brain and was shown in preclinical studies to protect and enhance connections of neurons in brain regions susceptible to degeneration in Alzheimer's disease. Six initial persons with early Alzheimer's disease have been enrolled. "We are looking forward to observing the effects of this new effort in patients", said Mark Tuszynski.
Sandip Patel, Medical Oncology Associate Professor at UC San Diego School of Medicine chaired the session on cancer and blood diseases. He reviewed the importance of CAR-T cell therapy (chimeric antigen receptor T cell therapy), which is used in some treatments of leukemia, lymphoma and myeloma, and combines the technologies of gene therapy and cell therapy to engineer a patient's own immune cells to fight their cancer. Such approaches are being evaluated at Assistance Publique – Hôpitaux de Paris where Marie-Emilie Dourte is Pediatric Hematologist. Marie-Emilie Dourte resumed the importance of pivotal multicentric international trials for evaluating CAR-T cells therapies, citing for example the trials that results allowed a CAR-T cells medication named tisagenlecleucel to obtain approval in Europe and in the US for the treatment of acute lymphoblastic leukemia, the most common cancer in children and adolescent. Both Sandip Patel and Marie-Emilie Dourte also underscored the need for collaborative studies to continue to evaluate gene therapy indications in real life settings after their approval.
Throughout the symposium sessions and across diseases, contributions from international collaborations were highlighted, particularly on challenges related to vector improvement and manufacturing, to the diagnosis and recruitment of patients with rare inherited diseases, to the definition of clinical outcome measures to assess the safety and efficacy of treatments, and to the regulation, commercialization and patient access to treatments.
 "Innovation in the field of cell and gene therapy are the fruits of collaboration between different countries and between academic and industry", observed Sandip Patel. A message that Nolan Townsend, Chief Executive Officer at LEXEO Therapeutics supported, backing that approved gene therapies were started in academic laboratories. This is the case of Luxturna, approved for Leber hereditary optic neuropathy, that derived from research and clinical trials conducted in the US and in France for example at Paris Vision Institute. This is also the case of the gene therapy named Zolgensma. Zolgensma is used to treat spinal muscular atrophy, a rare neuromuscular disease caused by degeneration of the peripheral motor neurons. It acts by replacing the function of the missing or nonworking SMN1 gene with a new, working copy of SMN1 gene; Chamindra Laverty, MD, presented the impressive results in her patients at Rady's Children hospital. Zolgensma was developed by Avexis and benefited from research conducted by academic partners such as Nationwide Children's Hospital in the United States or Genethon in France, a unique not-for-profit laboratory dedicated to advancing gene therapy treatments for rare diseases. Genethon brought the proof of principle of the efficacy of a gene therapy strategy via administration of an Adeno Associated Virus vector carrying the human SMN1 gene sequence. "Industry partnership with academic institutions offer companies access to innovation". In return, "partnership with industry provides resources to advance development at academic institutions", said Nolan Townsend. By advancing these treatments, "gene therapy has the potential to change the trajectory of Human diseases" concluded Katherine Brandl, Senior Medical Science Liaison at Sarepta Therapeutics.
"Translating discoveries into therapeutics is a long and difficult road. What we also know is that the greater the connections between individuals, academia, industry and governments, the smarter we will be", concluded Julie Duhaut-Bedos, Consul General of France in Los Angeles, while closing the discussions. "Science is a pillar of French diplomacy", she said, and  "we [French diplomats] are committed to providing you with the best framework for cooperation, whether it be by structuring scientific collaboration, supporting transatlantic mobility, or acting as facilitators, so that your experience can influence the definition of public policies." Julie Duhaut-Bedos also took the opportunity to emphasize the support of the French government to biomedical research and innovation through the strategic plan "Healthcare Innovation 2030" counting for 7 billion euros, aiming at making France the leading European country for clinical research.
The transition of gene therapy approach from bench-to-bedside is the fruit of decades of preclinical work and manufacturing development that often started in academia and then led by industry. The Clinical Trials in Gene Therapy FAID has highlighted the challenges, the successes, and the importance of collaboration with the 23 speakers from academia and industry presenting on metabolic, neurologic, eye and blood disorders as well as cancer. This transformative therapeutic approach is now part of today's medicine, but continued efforts are necessary for its future success as better gene delivery systems, manufacturing facilities and models are being developed.
For further information on the French American Innovation Days on Clinical Trials in Gene Therapy, November 17-18, visit French-American Innovation Days-gene therapy.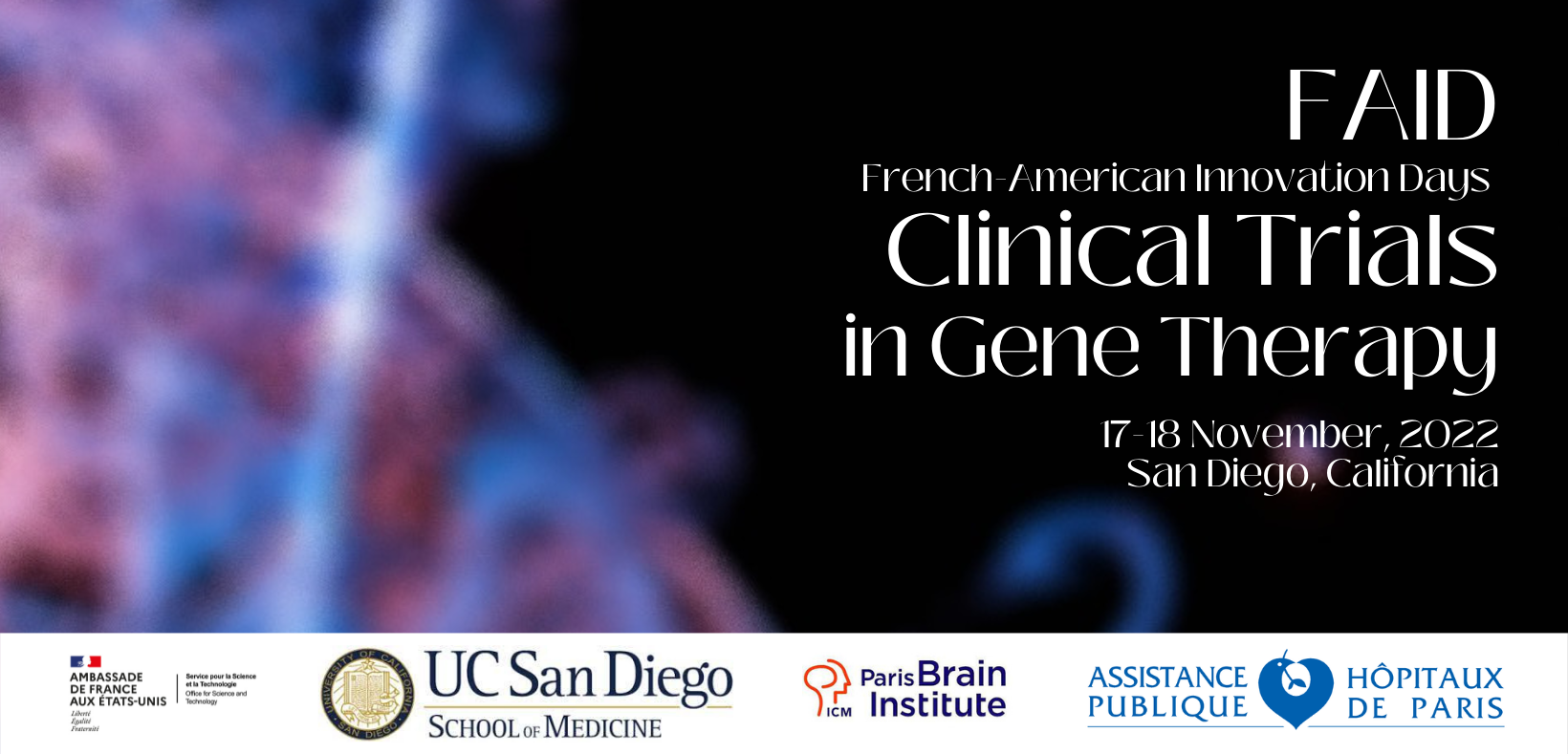 Editors :
Karim Belarbi, Attaché for Science and Technology, Embassy of France in the United States, [email protected]
Clara Devouassoux, Deputy Attachée for Science & Technology, Embassy of France in the United States, [email protected]
Stephanie Cherqui, Professor, Department of Pediatrics, UC San Diego School of Medicine
Caroline Sevin, Pediatric Neurologist, Assistance Publique–Hôpitaux de Paris