Franco-American space cooperation in the spotlight during the French President's State Visit to the USA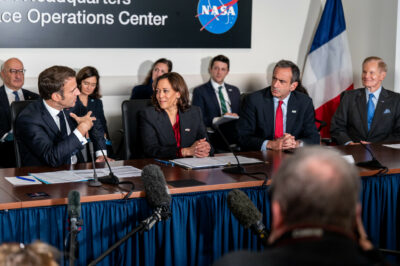 Wednesday, November 30, 2022 in Washington, as part of the State Visit of the President of the French Republic, Emmanuel Macron, a sequence dedicated to space highlighted cooperation  between the two countries. For more than 60 years, the two nations have worked closely in major missions to explore the Solar System or observe the Earth. The meeting was attended by Kamala Harris, Vice President of the United States, President of the National Space Council, and the President of the French Republic, Bill Nelson, NASA Administrator, Richard Spinrad, NOAA Administrator, Ministers Bruno Le Maire, Catherine Colonna and Sylvie Retailleau, Philippe Baptiste, CEO of CNES, Antoine Petit, CEO of CNRS, astronauts Sophie Adenot and Thomas Pesquet, Alexandre Tisserant, CEO of Kinéis, and Fatoumata Kebe, Astrophysicist.
Initial discussions focused on the environment, climate and space for the benefit of the population. With a launch scheduled for December 15, the SWOT (Surface Water and Ocean Topography) mission currently illustrates the vitality of a 40-year cooperation in oceanography, altimetry and atmospheric study programs. Regarding the Space for Climate Observatory (SCO), joined by the US  last June, Kamala Harris confirmed a commitment by the US to strengthen its participation in the initiative. The CEO of Kineis presented the future deployment of its constellation dedicated to the IoT, which is based on 40 years of experience ARGOS, a system created in 1978 by CNES, NASA, NOAA, which he is the operator. Finally, France announced its commitment to NASA's Atmosphere Observing System (AOS) program. AOS is the next structuring program for the Earth Observation sector for the coming decade.
On the theme of exploration and science, both parties welcomed the global success of the JWST mission, launched by an Ariane 5 in December 2021, and the involvement of France in the Dragonfly mission to Titan, moon of Saturn. Concerning manned exploration, the President of the French Republic expressed France's willingness to extend its ambition in bilateral cooperation. As a highlight of the exploration discussions, CNES CEO and NASA Administrator signed an agreement to fly the Farside Seismic Suite (FFS) project, the equivalent of SEIS on Mars, on a Commercial Lunar Payload Services (CLPS) to explore the far side of the Moon.
On  commercial side, France and the United States are encouraging sustained cooperation between French and American space companies. The recent contract between Amazon and Arianespace for the Ariane 6 launch solution was mentioned during these discussions.
Philippe Baptiste said: "An entire section of the State Visit is devoted to space. This perfectly illustrates the tremendous dynamics of the sector and its importance in the cooperation between the two countries. I would like to thank the President of the French Republic and the Government for their unfailing support for our activities. The vitality and density of current and future projects between France and the United States bode well for the future. Next step is the December 15 launch of SWOT from California!"