CNESMAG 91 – Innovation: Boosting French Expertise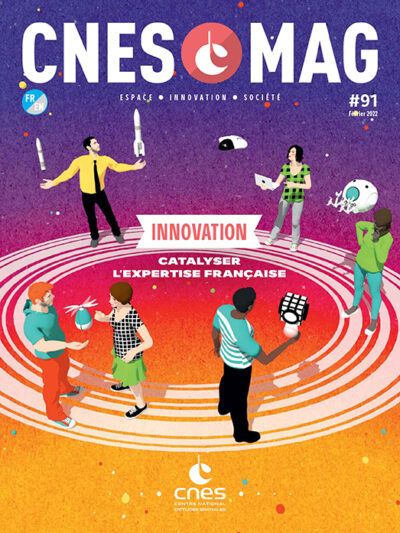 The 91th issue of CNESMAG is dedicated CNES actions to foster innovation.
Editorial of Marie-Claude Salomé, CNES Director of Communications :
CNES's 60th anniversary last December bore testament to an extraordinary scientific and human adventure. Today, while continuing to fulfil its missions of excellence, our agency is taking on a new role as the linchpin of the nation's space industry policy. Our commitment to the economy is unwavering: right from the start of the pandemic, we put in place the emergency measures—notifying contracts, placing orders and so on—that were needed to cushion the impact of the crisis on all our partner firms. Since 2020, CNES has been expediting the government's stimulus plan as the agency with sole responsibility for executing its space strand (see p. 22-23). Likewise in 2022, working with the Ministry of the Economy, Finance and the Recovery, and in collaboration with public investment bank Bpifrance, we will be implementing the space budget line of the France 2030 Plan. With the signature of the new Objectives and Performance Contract (OPC) for 2022-2025, under the banner "New Spaces", CNES is further consolidating its commitment alongside the government. In a fiercely competitive global landscape, the stakes will be to stimulate growth in the space economy through competitiveness and innovation.
This issue of CNESMAG shows how we have rethought our role and documents the wealth of real-world solutions we are providing to spawn start-ups and nurture the French New Space industry, irrigating the wider space ecosystem. Through initiatives like pitch days, Connect by CNES, Space Ticket or CosmiCapital, we are embracing a new culture tailored to this new reality and setting our sights on these new spaces.
To read further, click here.