[message title="The Chateaubriand Fellowship" title_color="#000000″ title_bg="#dddddd" title_icon="" content_color="#000000″ content_bg="#ffffff" id=""]
[text text_format=""]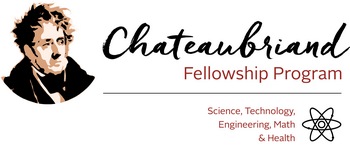 The Chateaubriand Fellowship program for PhD students aims to initiate or strengthen collaborations or joint projects between French and American research teams. These fellowships fund doctoral students enrolled in an American university who wish to conduct part of their doctoral research in a French laboratory. It covers both human and social sciences (HSS) and science, technology, engineering and mathematics (STEM).
While the HSS part of this program is carried out by the Cultural Service of the French Embassy in Washington, D.C., its STEM component is implemented and funded by the Office for Science and Technology (OST). Inserm, Inria and the University of Paris-Saclay also contribute to the program by providing financing to host students at their institutions.
The scholarships awarded cover travel expenses, living expenses in France (up to 1500 € per month, determined based on other sources of income), and health insurance for a period between 4 and 9 months. All fields of Science, Technology, Engineering, Mathematics and Health are eligible. The required level of French remains at the discretion of the host laboratory.
Dates: The call for applications is open each year from October (Year N) to January (Year N+1) for fellowships starting between September (Year N+1) and April (Year N+2).
Application: Chateaubriand Fellowship website
For more information, candidates and American/French research teams can contact the OST in Washington, DC:
[email protected]
Former fellows are invited to join the Scientific Chateaubriand Association on LinkedIn : 

Lauréats :
[/text]
[/message]