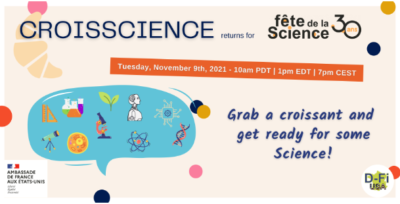 November 9, 1pm EST: « Fête de la science » : Meet Three French Researchers in the US
Created in 1991, "La Fête de la Science" is an annual french event – celebrated on November 6-16th internationally – promoting Science to broader audiences, allowing both adults and children to learn more about various scientific topics, participate in science-related events, and meet real-life scientists.
During Croisscience, three experts in their field will share with you their latest research on fascinating scientific topics and answer your questions. Grab a croissant and get ready for some Science!
Program:
1:00-1:05 PM: Welcome and Introduction by D-Fi USA – Dr. Laurie Herviou (Ph.D.)
1:05-1:10 PM: Presentation of the Office for Science and Technology (OST)
1:10-1:20 PM: Targeted radionuclide therapy and cancer – Dr. Jonathan Tranel (Ph.D.)
1:20-1:30 PM: Computer science – Dr. Sophia Knight (Ph.D.)
1:30-1:40 PM: Understanding complex system, from the shape of corals to environmental justice – Dr. Paul Valcke (Ph.D.)
1:40-2:00 PM: Discussion with the speakers
For more information and registration, please check out our Eventbrite page.